4 Generations of Experience Paving Alberta Roads
Parking Lot Maintenance, Residential Paving, Commercial Paving
Asphalt Paving Company – Edmonton
We provide asphalt paving services for Edmonton & surrounding areas.
Centerline Paving is a family-owned and operated company serving Edmonton and the surrounding areas. Our team is made up of asphalt specialists with more than 70 years of combined knowledge in the paving industry. Our family has been paving for generations. Starting with our grandfather in the 1950's to his sons in the 1970's and '80s and his grandchildren into the present. It's a family way of life.
Our team is also made up of local professionals who are very skilled in their fields, whether it be from our Paving Estimators to our office staff and the crew themselves. We are individuals making up a complete paving experience for you our customers. It is our core values of Integrity, Loyalty, Commitment to Excellence, and you, our customers who make us a successful paving company.
Centerline Paving provides both Commercial and Residential asphalt services. On the Commercial side, we do Asphalt Paving, Asphalt Repairs and Maintenance, Parking lot Maintenance, Asphalt Seal Coating, Hot Pour Crack Filling, Parking lot Sweeping, Line Painting, Excavation, Catch Basin Repair, and Installation. We can handle any size job with our in-house equipment and crew. We enjoy the challenge of doing residential work, it allows us the opportunity to excel for you our customers. We provide a full range of asphalt driveway services. New Asphalt Paving, Asphalt Rehabilitation, Overlays, Seal Coating, and Hot Pour Crack Filling.
---
Centerline Paving – Edmonton
Asphalt Paving Company
Edmonton Asphalt Services: Commercial – Residential – Industrial
780-739-3387 Edmonton & area
Asphalt Paving & Resurfacing, Pothole Repair, Asphalt Crack Repair, Asphalt Sealing, Parking Lot Curbs & Line Painting

30+ Years Experience – Free 'No-Pressure' Estimates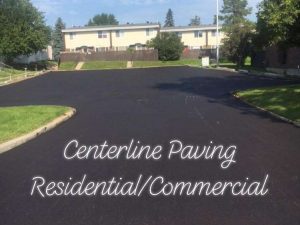 ---
Our goal is to provide you with the best service that is timely, without cutting corners, effective for cost efficiency. When you choose to use us for either your Commercial or Residential projects trust that you will be walked through your experience with a qualified professional. You will be dealing with company owners from the beginning to the end. Let our years of experience show through the quality of workmanship, materials, and customer satisfaction.
Commercial Asphalt Services
Centerline Paving is capable of doing any size commercial job, whether it be providing basic parking lot asphalt repairs, excavation, asphalt overlays, new installs, parking lot removal, and replacements.
It is important to periodically evaluate the condition of the pavement in parking lots. Since the surface condition is the most important part of the pavement we have created a tool for our estimators to use which will allow them to go out and provide our customers with the most accurate solution. This tool outlines areas of concern such as Surface Deterioration, Water Pooling Areas, Catch Basin Deterioration, Pot Holes, and Line Striping conditions. After a parking lot has been assessed we can provide you with solutions within your yearly parking lot maintenance budget. These may include but are not limited to Paving, Asphalt Resurfacing, Crack filling, Sealing, Line Painting, Pot Hole Patching, and or Drainage System Strategies.

Centerline Paving can also provide our customers with new parking lot installations. From the base up we have all the equipment and expertise to complete your new parking lot installation in the house.  Our team on the ground has more than 50 years of combined experience in asphalt and will be able to provide you with your new parking lot on time and on budget.
Contact Us
Find out more or discuss your project
Residential Paving
The Centerline Paving Crew seems to truly enjoy paving residential driveways, it allows them to show there expertise and they appreciate the personal residential response. Our team can usually come out and complete a driveway anywhere from one or two days depending on what needs to be done. We also do driveway removals, base structure repairs, and repaving.
Not only is Centerline a paving company; we also do seal coating and crack fill maintenance. Our Seal Coat product is second to none in the industry. It is a Commercial Grade Asphalt Sealer called STEEL coat. What makes it unique is its contents, consisting of crushed slate and polymers that require continuous agitation to suspend the additives during the storage and application process. STEEL Coat is unlike your store-bought brand with no additives to give it the shelf-life our product surpasses. Seal coating is recommended on all asphalt services.
Asphalt Paving Questions:
What can you tell me about your Asphalt Crew?
Our crew is made up of 15 people, two of our main foreman's have over 30 years in the paving industry running full crews and operating various pieces of equipment. We have 2 equipment operators with more than 7 years running various pieces of equipment such as skid steers, excavators, graders, and rollers. We have 3 In house class 1 drivers who run 3 of our own dump trucks. Our ground crew has been working alongside each other for many years and most consist of our own family members reaffirming our commitment to success.
How large of projects are you able to handle?
Our crew has done civil projects consisting of parking lot installation for schools, community centers, local business parking lot installations, walking paths, city roads, and more.
What materials do you use when installing a driveway? 
When you are having a new driveway paved it is always important to know that it is going to last. The last thing you want to have happened is a driveway that just falls apart. Centerline Paving will ensure that your base is suitable and built with materials designed to last. From the gravel used to create the base right up to the asphalt, we ensure that we are using the best materials for the longevity of your new driveway. All materials meet city standards and specs.
How much does it cost?
Installing a new driveway or parking lot is going to be one of the biggest investments you make for your home and or business. Cost is always a concern whether you're a homeowner, property manager, and or commercial property owner. It never hurts to get 2 or 3 quotes from different paving contractors to ensure you are getting the best service. Most contractors will come marginally close to each other, we recommend to disregard the lowest and highest. Centerlines objective to hit mid-stream pricing.
Who will actually be conducting the work?
Centerline is a committed believer in keeping as much of the project in the house as possible. This allows for the best pricing and scheduling for you, a valued customer. From the oversite of sales by one of our owners to the delivery of services by one of our owners to office work commitment oversite by one of our owners. Rest assured you can reach an owner at Centerline.
Is your company properly licensed, insured, and part of the ACSA safety program? 
This is a very important question to ask any contractor you are working with especially in this industry as we are working with and around heavy equipment. The answer is yes, we are licensed, we hold $5,000,000 insurance, we are bondable, WCB Zero incidents and have our SeCor from the ACSA.
Can you show me examples of work you have done?
Upon request, we can provide you with phone references for both Commercial and Residential projects our team has completed. Asking for references is always important when dealing with a paving contractor or any contractor. You can find some pictures in our gallery as well as some of the work we have done.
Centerline Paving provides a service that we ourselves would expect if we hired a paving company. We work hard for our money as I'm sure you do, our desire is to win your job and win your reference. If we do both we have succeeded.
---
Centerline Paving – Edmonton
Asphalt Paving Company
Edmonton Asphalt Services: Commercial – Residential – Industrial
780-739-3387 Edmonton & area
Asphalt Paving & Resurfacing, Pothole Repair, Asphalt Crack Repair, Asphalt Sealing, Parking Lot Curbs & Line Painting

30+ Years Experience – Free 'No-Pressure' Estimates
---
"Honest assessment and competitive quote"
May 22, 2019
To whom it may concern,
This spring we were looking for a paving contractor to redo our asphalt driveway. The driveway was in rough shape and we had to get something done. We searched around, asking for quotes and Todd Holloway of Centreline paving was one of the first to get back to us. He came out to our place and immediately sized up our driveway and gave us some options to consider. We were so impressed with his  that we gave him the contract. With his foreman and their crew, they showed up on time, quickly and efficiently excavated, filled, compacted and paved our driveway. We are very happy with the finished product and highly recommend Centreline Paving for your paving or maintenance needs.
Sincerely,
David Graham
Serving Edmonton and the surrounding areas. Leduc, Devon, Beaumont, Calmar,
Sherwood Park
, St Albert, Spruce Grove, Stony Plain, Wetaskiwin, Camrose, Fort Saskatchewan.