Parking Lot Paving – Edmonton
We provide blacktop (asphalt) parking lot paving in Edmonton & area
Centerline Paving is a generational paving company located in Edmonton. We are a family-owned paving business connected with other family members who own and operate paving companies across Alberta. We can pave any size parking lot and have access to all kinds of equipment as well as suppliers to meet the individual needs of our customers. We service Edmonton and the surrounding area. Our family has been paving parking lots and Alberta roads for generations. Gordon Holloway was our grandfather and he paved portions of the Trans-Canada Highway for over 40 years. Since we were young, we have had paving engraved into every aspect of our everyday lives. So, when it comes to experience, we've got this. We provide paving services; everything from potholes to small residential driveways, to installation, and completion of major parking lots.
---
Centerline Paving – Edmonton Parking Lot Paving Company 
Asphalt – Blacktop Services
Edmonton Asphalt Paving Services: Commercial – Residential – Industrial
780-739-3387 Edmonton & area
Blacktop Parking Lot Paving & Resurfacing, Pothole Repair, Asphalt Crack Repair, Asphalt Sealing, Parking Lot Curbs & Line Painting
30+ Years Experience – Free 'No-Pressure' Parking Lot Paving Estimates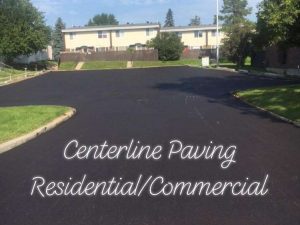 ---
Our service experience is simple, you're dealing directly with the owners, from the beginning of the venture right up until the parking lot paving is complete. This experience allows for better communication throughout this experience. The owners are the ones putting the product down for you as well, so we can assure the quality of our work.
We do not sub out the work…
When it comes to paving your parking lot, we do not sub out the work, this is very important to some clients. We will be the ones doing the work from the beginning to the end of the project, allowing peace of mind for you our client that the job is being completed in a safe, professional, and reliable manner.
We will be happy to provide you with local references in the Edmonton area, we can also meet you on some of the parking lots we have paved, and provide you with contacts you can call to confirm our good work history. We have nothing to hide, we pave with the greatest integrity.
If you are looking for a contractor who knows how to pave a parking lot, you came to the right place. Our team has combined experience of over 50+ years in the business. We have paved parking lots for the City, small towns, large commercial businesses, industrial sites, and various community centres.
We are bondable, zero-incident WCB, insured up to $5,000,000, and accredited by the ACSA.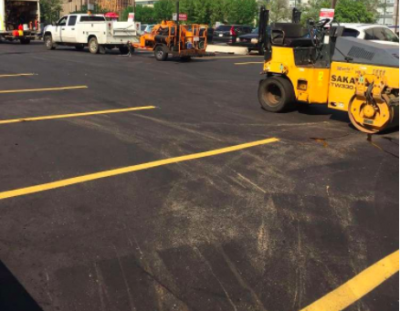 Centerline Paving is capable of the installation requirements to pave any size parking lot. We can provide excavation and placement of the base to ensure a strong foundation giving you longevity of your lot.
We have all the equipment owned in-house to complete these jobs, allowing us to offer you a better price on your parking lot project. We use commercial grade asphalt from local suppliers such as Burnco, Standard General, and Park, so you can be assured of the quality of the materials being placed.
If you've made it this far down the page, we hope you are interested in taking the next step. The benefit of going with us is that we live and breath asphalt, going to work every day for us is like a hockey player getting paid to play. We enjoy what we do and have an appreciation for the trade. If you choose us to do your project large or small you are more than just a customer; you become part of the Centerline Paving Family.
---
Centerline Paving – Edmonton Parking Lot Paving Company
Asphalt – Blacktop Services
Edmonton Asphalt Paving Services: Residential – Commercial – Industrial
780-739-3387 Edmonton & area
Blacktop Parking Lot Paving & Resurfacing, Pothole Repair, Asphalt Crack Repair, Asphalt Sealing, Parking Lot Curbs & Line Painting
30+ Years Experience – Free 'No-Pressure' Parking Lot Paving Estimates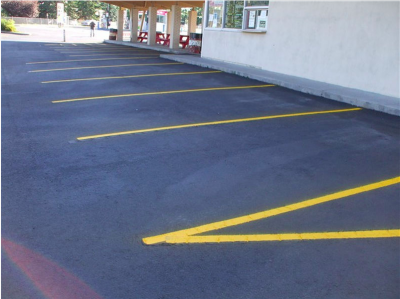 ---
Contact Us
Find out more or discuss your project