Residential Driveways – Edmonton
Centerline Paving is a combination of three generations of asphalt pavers. We are family owned and operated. Our grandfather started in the industry in the 1950's in Newfoundland. As generational kids growing up in the paving industry, our first words weren't mommy and daddy they were "Asphalts Here". It is from this generational heritage that the love of asphalt has permeated our family. It has taken us from the province of newfoundland across this great country of Canada as far as Duncan in Vancouver Island. Our family company has been operating here in Alberta for since 1996.
---
Centerline Paving – Edmonton
Residential Driveways
Edmonton Asphalt Services: Commercial – Residential – Industrial
780-739-3387 Edmonton & area
Asphalt Paving & Resurfacing, Pothole Repair, Asphalt Crack Repair, Asphalt Sealing, Parking Lot Curbs & Line Painting
30+ Years Experience – Free 'No-Pressure' Estimates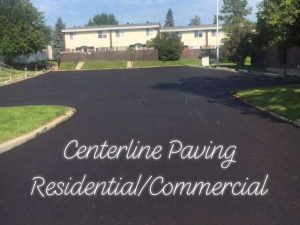 ---
Our shop and yard are located at 703 11 ave, Nisku Alberta, we service Edmonton and the surrounding areas. Our sister companies service Calgary's surrounding areas and Fort McMurray. Our family is very close, we can do any size commercial or residential job. With highly qualified seasoned professionals, know that you're going to be provided with a superior outcome. We not only want your business, but your reference is very important to us and our future clients as well. If a job is completed for you by Centerline Paving, we do encourage you to give us a reference on Google to let us and our crew know how we did.
We offer the following Commercial and Residential services:
Asphalt Paving

Parking Lot Asphalt Maintenance
Crack filling
Pothole Repairs
Line Painting
New Parking Lot Design and Overlays
Power Sweeping
Catch Basin/Manhole Repairs
Fire Hydrant Repairs
Excavation
New Land Development
Seal Coating
Snow Removal
Annual Parking Lot Maintenance
Go Cart Tracks
Walkways and Paths
Asphalt Basketball Courts
If you are on this page though you are probably wondering about our residential services. Centerline paving does amazing residential projects. We truly enjoy being able to show our skills when it comes to paving a residential driveway. Many times, when I've spoken to customers some have had a bad experience with getting their driveways done by other contractors. Often, we have been called in because a driveway was done and failed due to corners being cut. Our goal is to provide you with an honest assessment of your residential driveway, this includes a Full Base Assessment which is very important. Please note we don't cut corners just to win your business, your reference is truly important to us at the end of the day. Some customers have been in touch with us years after there driveway was completed to ask us to come seal coat it. know you are dealing with a company that is local to the area and that has your back when it comes to getting your project done the right way.
When it comes to getting your residential paving project done let us be your go-to contractor. Our team has over 50 years of combined experience in the asphalt industry. When it comes to doing residential paving work "it's our time to shine" we like to say. We don't claim to do it all though, yes, we can provide you with an amazing asphalt job. When it comes to concrete work, we work closely with another local concrete contractor who specializes solely in concrete. It is always good to get a contractor who specializes in their field, this will give you the best results for your residential project.
Not only do we provide Residential Paving Services we can provide asphalt repairs on most projects as well as crack filling and seal coating.
When it comes to crack filling, we first blow out all the cracks of debris, remove grass and or weeds, we then use a hot pour crack filling agent that penetrates and seals the cracks so that water doesn't penetrate the asphalt. It is always important to take care of your asphalt over time; preventative maintenance is the key to keeping your driveway looking its best.
STEEL COAT is the seal coating agent we use on residential and commercial projects. It is the best of the best when it comes down to comparing it with the competition. STEEL COAT is specially designed to extend the life of your asphalt, both residential and commercial. It is designed to seal your asphalt and protect it from deterioration. Asphalt is made up of sand, rocks and oil; when the asphalt is first put down the service is very smooth. This surface rubs off over time exposing the fine rocks. Seal coating seals the top layer again, protecting it from the elements, tire abrasion and or mild chemical attacks. Our product is shipped in from the states, it must be continuously mechanically agitated in order to keep its quality. We agitate the product twice a day when it is in storage at our shop, our supplier is in Calgary, so know when you choose us, we are willing on making the trip free of charge to get your quality product.
For many of our clients, it is very important to create a relationship with them so that they know they are getting the quality they are requesting. Know that an owner is available to speak with any time. An owner will be on-site while your project is being completed, an owner is also available in the office as well, just know that an owner can provide you with any answers you may have.
When you request a quote, we have our estimator come out to assess your job on-site, know that providing ballpark quotes over the phone is something we shy away from. This is because our promise to you, is to provide you with an honest calculated assessment. Once a quote is completed it is sent into our office and addressed with our team and owners for approval. When approved our estimate is emailed out to you the customer for your review. If awarded, we schedule you in and stay in contact with you so we can create a stronger relationship.
Frequently asked questions
How do you pave a driveway?
It's always important to use a reputable paving company when it comes to paving your residential driveway. We own all our paving equipment, we have a new leeboy paver, two rollers, skid steer, float, three dump trucks, a pup and to much equipment to list. Know that we are a qualified crew who will give you a quality driveway. Once the base passes for asphalt we bring it in hot, place it then roll it for compaction. We then ensure the property is cleaned up and the owners of the property can come to do a walkthrough with the owners of Centerline for approval.
Does Centerline Paving have General Liability Insurance?
Yes, we are insured with MHK insurance and hold General Liability Insurance for up to $5,000,000. We can also provide a WCB clearance letter before commencing the job if requested. In addition to that we area accredited SeCor by the ACSA and follow the industry safety practices both on commercial and residential projects.
Can you finance a driveway?
We are happy to tell you yes; we have partnered with a financing company for our residential clients. We know that a driveway can be a big investment, financing will help you get your curb appeal with a manageable rate and fixed term. Please call us for more information on how we can get you qualified.
How experienced is your crew?
Our paving crew has over 50 years of combined experience. When it comes to paving, these guys life the paving life day in and day out. Most of our crew is composed of family and close family friends who are all well-seasoned in the paving industry. Paving is life!!! they always say.
Where do you get asphalt?
Our asphalt comes from local suppliers in Edmonton. We use Burnco, Standard General and Park, know that when your asphalt is coming to your site its passed city inspection for quality and will be hot and ready to place.
We hope you enjoyed getting to know Centerline Paving a bit more. It is always important to know the people we do business with; we are an open book when asked questions. If you decide to proceed with our estimate for your project know that you're dealing with owners and qualified local professionals. We are not a fly by night asphalt company, we use integrity and honest business practices. My name is Matt Peterson by the way, I'm one of the owners, I hope you enjoyed the read. Thank you for your valued time and potential business. 
---
Centerline Paving – Edmonton
Residential Driveways
Edmonton Asphalt Services: Commercial – Residential – Industrial
780-739-3387 Edmonton & area
Asphalt Paving & Resurfacing, Pothole Repair, Asphalt Crack Repair, Asphalt Sealing, Parking Lot Curbs & Line Painting
30+ Years Experience – Free 'No-Pressure' Estimates
---
Request a Quote
Fill out our quick and easy quote form