Concrete Services – Edmonton & Area
Centerline Paving provides paving and concrete services to Edmonton and the surrounding areas. We are made up of multiple teams which can efficiently provide the best service possible to you, our client. Centerline Paving works closely with our concrete contractor on multiple projects including but not limited to Commercial, Residential, Industrial and Municipal clientele.
Our professionals have been providing services around Alberta for 30 years. We work closely with our sister companies in Calgary and Fort MacMurray as well, providing both Asphalt and Concrete Services. With our experience, we know we can provide you with not only a quality project but a project that comes in on budget.
What sets us apart from others in our industry is that we recognize the need to give our clients the best quality job possible and we do so by strengthening our forces with our TRUSTED Sister Companies and Sub-Contractors.
---
Centerline Paving – Edmonton Concrete Services
Commercial – Industrial – Residential
780-739-3387 Edmonton & area


30+ Years Experience – Free Estimates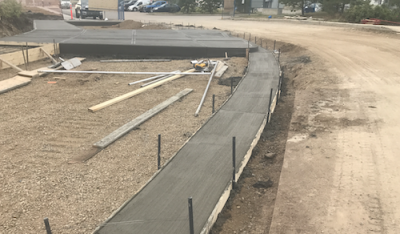 ---
Residential & Commercial Concrete Services
Centerline Paving works closely with our concrete team to provide you, our customer, with a quality job that comes in on budget. There are many projects we take on while we are paving, that will have concrete work to be done as well. We are a one-stop-shop for both concrete and commercial concrete services. 
On the residential side, our clients may be looking for concrete driveways, sidewalks, patios and/or hot tub slabs. There are a wide variety of concrete selections to choose from which include exposed, stamped or smooth broom finishes. Some customers may just be looking to update the concrete currently on their property and we can help you with that as well. If this is the case, the project quoted should include removal of concrete currently in place. We would remove the debris off-site and replace it with the type of concrete finish of your choosing. 
Centerline Paving on the commercial side, provides concrete services through our trusted concrete team of professionals. Our Concrete Construction Division does full parking lot construction & rehabilitation, commercial concrete slabs, concrete grade beams, concrete barrier curb, concrete curb & gutter, pin on curbs, concrete parking stops, concrete para-ramps, concrete sidewalks, concrete lane crossings, concrete retaining walls, epoxy coatings, base construction, cement sub-grade stabilization, concrete breaking removal, concrete saw cutting, concrete poles, rebar enforcement, and soil stabilization. 
Our Process
Our process from beginning to end always is guided by someone in our management team.
First, we have an estimator come out to the location to look at the project scope. If the project is larger, we will require a meeting with the site supervisors and our management team to go over the requirements of the project. Once this is complete our team goes back to the office and works on a proposal to send to the client for approval. If there are multiple bidding requests, we calibrate with the management team to find the best solution for you, our clients. Once a proposal is agreed upon, we present it to the site supervisor or homeowner for approval.
If approved, we schedule a date for the work to be completed. If the project requires both asphalt and concrete, we ensure proper scheduling for both projects to be done. We require the project area to be clear of obstruction before arrival, this allows our team to set up safeguards for the protection of pedestrians and our construction team. During this time the customer can address any site questions or concerns to the onsite Foreman. If the customer ever requires communication with an owner, we are always available. Once the job is complete, our accounts payable team will send out an invoice. Invoices are to be paid in line with the terms and conditions of the proposal.  
---
Centerline Paving – Edmonton Cement Services
Commercial – Industrial – Residential
780-739-3387 Edmonton & area


30+ Years Experience – Free Estimates
---
Frequently Asked Questions
What is your schedule like and how soon can a project be start?
Any good concrete contractor usually has a busy schedule. Centerline Paving will schedule your work into the season as soon as it is possible, but we recommend calling in early spring as that is when we build our season's schedule. Once at the job, we ensure nothing less than our client gets our full attention. We do not rush our work, so your job gets done right the first time. 
Will you be managing the project, and do you have others who work with you? 
Centerline Paving works closely with our trusted concrete team of professionals. A foreman is always on site for any questions you may have. A company owner is always available as well and is usually on site during the project. 
Do you reinforce your work with rebar?
Yes, we reinforce our work with rebar in accordance with Alberta Building Codes. 
Can you provide References? 
Yes, Centerline Paving can provide reference upon request. 
How much experience do you have?
Our concrete team has over 20 years of experience in all types of job sites and conditions in Alberta. We specialize in commercial, industrial, residential, and municipal work. We are confident that our team can provide you with a great experience on your next paving and/or concrete project. 
Why should you pick Centerline Paving over another company?
Centerline Paving strives to ensure our customers are happy with every job we complete.  The project budget will include all aspects of the job from start to finish and will be fully discussed with you before acceptance. With a full year industry standard guarantee, you can feel confident that your needs will be taken care of completely – and that's guaranteed!
What is a unique aspect of Centerline Paving?
Few paving companies in Alberta can make the claim that an owner is always available to answer your questions or concerns during your project. From your first inquiry to the end product, let us show you why you should use Centerline Paving for all your projects involving asphalt and concrete. 
If you are looking for a company you can trust that shows integrity, please consider using Centerline Paving. We can provide references from happy clients and the companies we work closely with as well. Above all, we want you to rest assured that you are aligning with a company you can trust.
Choose Centerline Paving for your next paving or concrete project.
---
Centerline Paving – Edmonton Concrete Services
Commercial – Industrial – Residential
780-739-3387 Edmonton & area


30+ Years Experience – Free Estimates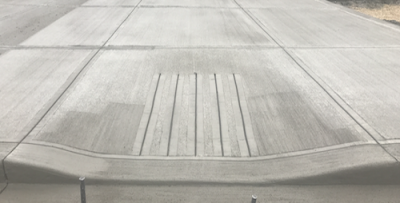 Request a Quote
Fill out our quick and easy quote form
Contact Us
Find out more or discuss your project